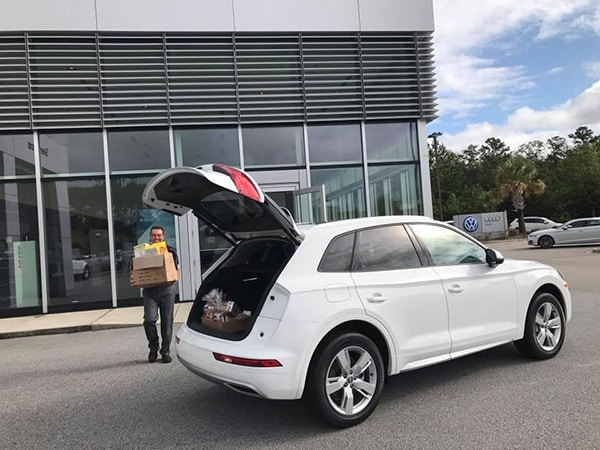 Audi Hilton Head, in partnership with American Heart Association-Southern Coast, donated 60 pounds of food to Bluffton Self Help on Sept. 12, 2018. The items were collected at the 2018 Heart Ball theme unveiling event, which was held at the dealership. Audi Hilton Head is the Legacy Sponsor of the Heart Ball, which is the AHA's largest annual fundraiser.
"In the aftermath of Hurricane Irma, we were happy to be able to make a donation that will help people in need in our community," said Khurram Khan, General Manager of Audi Hilton Head.
Bluffton Self Help has grown to provide a variety of services that include short- term emergency financial assistance to working families in a documented crisis with past due rents to prevent eviction and utility bills including electricity, propane gas and water to prevent disconnection of services, medications, children's program to working families and seniors on fixed incomes.
In 2016, Bluffton Self Help served more than 10,000 people, and provided approximately $125,000 to 355 families for short- term emergency assistance. This investment to keep people safe and in their home as they face crisis saves taxpayers more than $4 million annually.
In addition to their core service to make free food available whenever needed, Bluffton Self Help staff and volunteers coordinate a variety of service projects, including Thanksgiving dinners, toys at Christmas, Easter baskets, warm blankets and coats in winter, and school supplies at the beginning of each school year. For more information, visit
http://www.blufftonselfhelp.org.